Shooting Pain On Outside Of Ankle
Anyone who experiences shooting pain on outside of ankle can benefit from this information. The ankle is a susceptible joint in the foot that makes it difficult to walk.
Persons who have ankle injuries may spend a lot of time resting or doing therapy to bring relief and heal the joint. That is why it is important to know what to do if you suffer from ankle pain.
Seeing the doctor is always the first option, especially with serious injuries. However, those who need to know beforehand what could be the issue and are accustomed to searching the internet for information that we will share can help.
We will explain the best way to evaluate your condition.
Before you can treat a condition, you must know what it is. The best method to figure this out would be to check the symptoms. Symptoms are related to various diseases and can differ or be similar.
Figure out which signs belong to what illness, and you are on your way.
Once this is known, you can choose the correct treatment for that specific condition. Here are the diseases you need to know about that can cause shooting pain on the outside of the ankle.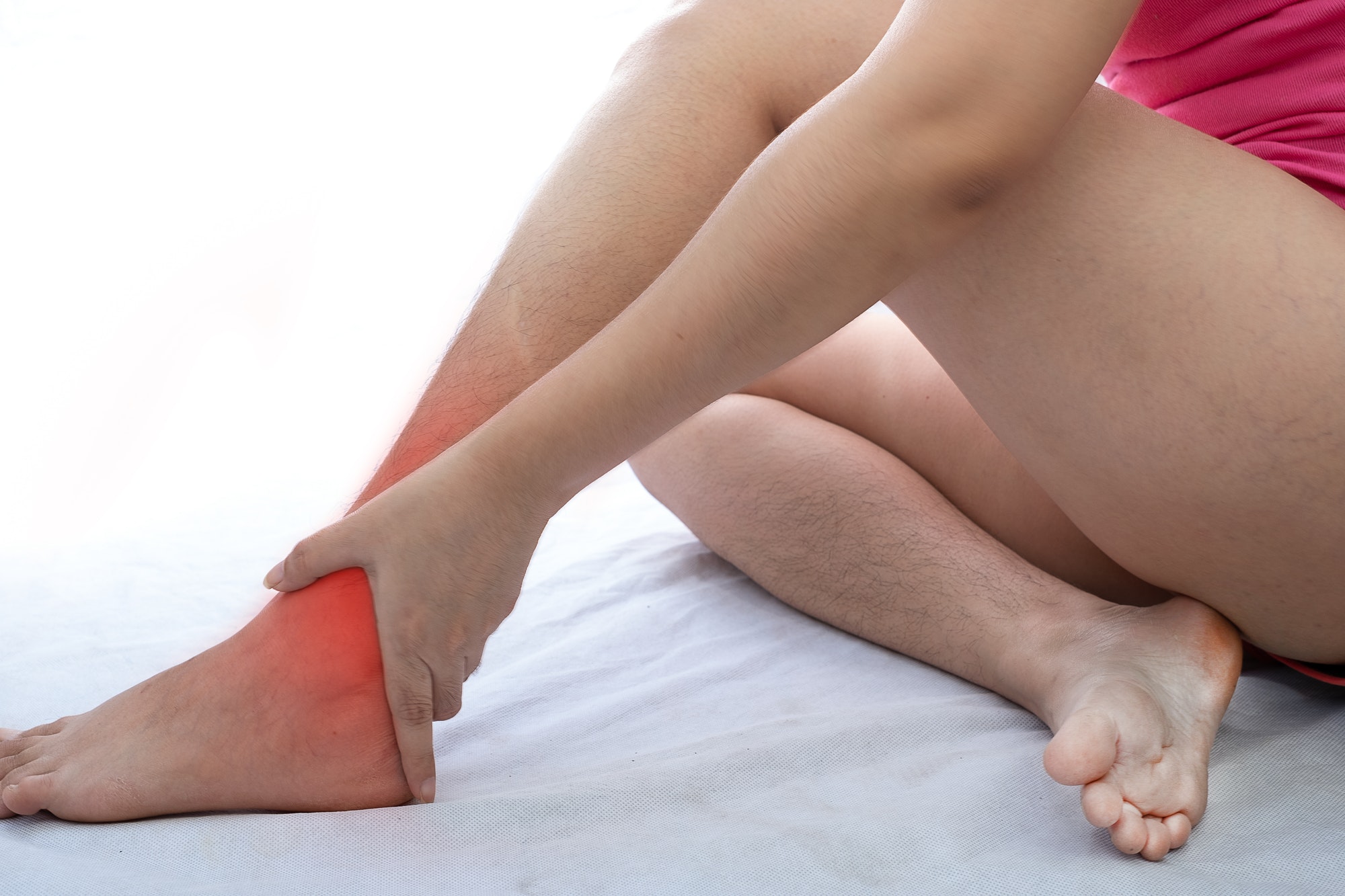 Shooting Pain On Outside Of Ankle – The Likely Causes
Bone Infection
A bone infection can be a very serious condition that could spread through the body and create other issues if left untreated. This disease starts in the bone, can travel through the blood, and affects the tissue.
The medical term for bone infection is osteomyelitis.
Symptoms for osteomyelitis are fever, sweating excessively, chills, and pain in the affected area. Other symptoms are pus from an open wound, discomfort, and pain in the bone.
Treatments for bone infection are painkillers (NSAIDs) and antibiotics. Other treatments are antifungal medications and bone surgery. Surgery will remove the infected bone but can cause deformity in the bone.
The doctor may use needle aspiration to drain pus from the infected area. The procedure can be painful but may make the need for surgery nonexistent. 
Bone Break
If you happen to break a bone in your ankle or foot, it will cause pain. An ankle injury via an impact or another incident makes figuring out the cause simple. 
Symptoms of a broken bone are excruciating pain and swelling in the area. Your ankle will become red and be tender to the touch. Walking won't be possible as the bone won't have the capacity to hold any weight.
Treatment for a broken bone would be surgery to realign the bones and then put it in a cast to start healing. Painkillers and treatment for a shock if necessary.
Treatment for this injury before receiving medical help would be to ice the area, stop any bleeding, and keep the foot stationary. Doing this could prove a big difference in the recovery and how the person feels.
Tumor
It isn't often that you develop a tumor in the ankle, but it is possible. Tumors can be noticed under the skin and would appear as a lump. The tumor isn't cancerous but can be painful.
Symptoms of an ankle tumor are shooting pain outside the foot and swelling around the ankle. A noticeable lump on the ankle and numbness or tingling in the foot
Treatment for a benign tumor is surgery to remove the infected bone. Other remedies are radiotherapy and painkillers to help with any pain you may feel.
Gout
Gout can be prevalent as a foot disease and affects millions worldwide. It is a type of arthritis that forms after the uric acid builds up and becomes crystals. These crystals affect the joints and cause excruciating pain.
The gout symptoms are the inability to move the joints as accustomed to and severe pain in the big toe and ankles. Other signs to know are redness and swelling due to inflammation and long-term pain.
Treatment for this condition is colchicine, injections with corticosteroids, and nonsteroid anti-inflammatory medication. The use of medicine that blocks the production of uric acid helps as well. Drugs that help remove uric acid from the body are another option.
Shooting Pain On Outside Of Ankle – Other Causes
No doubt, the pain you may feel from your ankle can be excruciating and in discomfort. That is why we hope that the information we share can help relieve the pain and make healing possible.
If you continue to follow the recommendations we have for you, it will significantly benefit your health.
Check out these other medical conditions related to ankle pain.
Tarsal Tunnel Syndrome
Tarsal tunnel syndrome can be another painful disease that affects the ankle. The posterior tibial nerve can become damaged once squeezed. Any compression of this nerve will cause ankle pain as it passes the ankle to the foot. 
Symptoms of tarsal tunnel syndrome are numbness and tingling in the ankle and shooting pain. You may also experience a burning sensation and swelling. Other symptoms are electric shock and needle-like pain.
Treatment for this condition is the R.I.C.E method and medicines to help with inflammation. If the pain becomes too much, your physician may prescribe strong medication. 
Wearing special shoes and braces is another treatment option. It should only apply if necessary, as you may not need it in some cases.
Tendonitis
Tendonitis happens when a tendon on the ankle becomes inflamed and causes pain. If the tendon is bruised or injured, it can cause this condition.
The symptoms of tendonitis are swelling, tenderness, and pain that seems dull but still hurts. Stiffness and immobility are associated with this disease as well.
Treatment for this condition is rest and lots of it, regularly putting ice on the area, compression bandages, and elevation for the injured foot. If pain is unbearable, you can use anti-inflammatory medication.
Other Possible Reasons For Ankle Pain
Some of the other known conditions related to ankle pain are arthritis, peroneal neuropathy, bone bruises, and sprains. Most of these conditions have similar symptoms and use identical treatments. 
You can do further research if necessary to learn more about these. The above-mentioned possible reasons are available on this website by searching for other foot-related conditions.
I hope you learned why you should take shooting pain outside of ankle seriously and why consulting a physician is vital. There are many ways to treat such an injury, you may be able to do it yourself, but it pays to get professional advice.