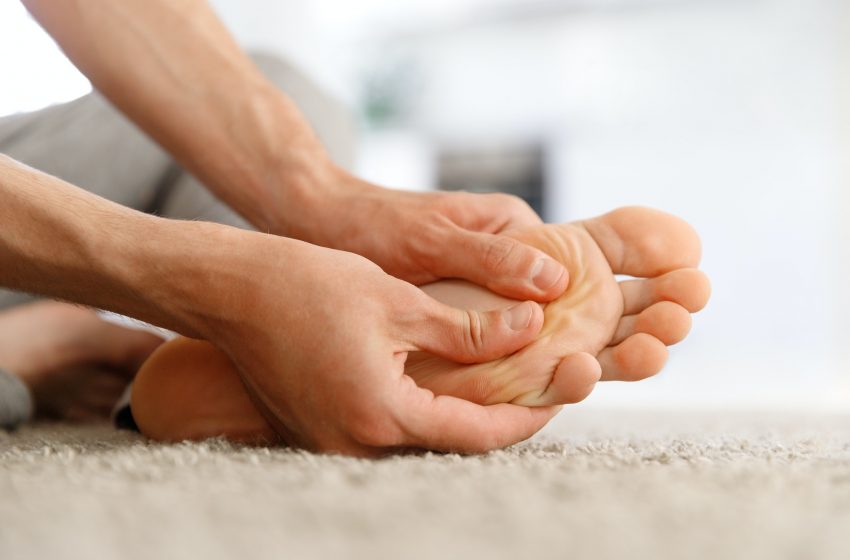 Feet Hurt When I Wake Up
My feet hurt when I wake up in the morning, wondering what could be the issue? The issue could be related to a wide range of issues that require examination. Foot pain isn't normal regardless of the time of day it happens.
However, if it happens when you wake up, that may slim the list a little and allow you to identify the cause.
As always, the best course for eliminating a medical problem is through a process we recommend. It would help if you looked at every symptom you are experiencing then aligned the signs to the conditions mentioned below.
That would narrow the current possibilities.
Once you can determine the cause of your pain, you can consider various treatments. You will see alternative treatments for those who prefer a natural approach, and you will also see the pharmaceutical medication. 
Not everyone prefers the same type of treatment, so it is wise to provide all the options. That way you can decide what is best for you.
However, we make it plain that the best course would be through the physician and allow them to offer a recommendation. You can find doctors who prescribe for both fields of treatment.
Here are the primary causes of feet pain when you wake up.
Feet Pain When I Wake Up – The Main Causes
Wrong Shoes
It may surprise you how vital a good pair of shoes can be to foot health. Many people have foot pain due to shoes that are too tight or affect the arch of the feet. A poorly arch foot can become very painful, making walking a nightmare.
This practice is the leading cause of most major foot problems, including those we share with you. It is essential to take the advice shared seriously to make the difference in continual doctor appointments with your feet.
Here are a few symptoms of wearing the wrong shoes. Most symptoms are pain in the heel, ankle, instep, and entire feet. There is swelling in the feet and redness with tenderness.
You may experience problems walking or standing on your feet. As mentioned earlier, most of the conditions below could be caused by wearing the wrong shoes.
The best treatment for this particular case would be to change the shoes. A visit to a podiatrist will help you choose the shoes suited to your situation.
Apart from your choice of shoes, you can ice the area, use a compression bandage, elevate the foot, and rest it often. Painkillers could be the last resort but can use if necessary. Natural painkillers are also an option.
Bone Spurs
Bone spurs can grow on the heel, the top of the feet, and other places where there is bone. This condition can be painful, making it difficult to wear shoes and walk furthermore run. 
The bone grows in an odd shape which causes pain around the surface due to the abnormality. The tendons and other tissue membranes are inflamed and become painful.
Symptoms of a bone spur are the usual severe pain associated with bone conditions and swelling around the affected area. You will notice a bump as the bone protrudes through the flesh.
Other symptoms are cramping, muscle spasms, weakness, and stiffness in the joints.
Treatment for this condition is to regularly get adequate rest and ice the area. You can also use a compression bandage to help and elevate the foot when resting. The use of painkillers is an option that you can decide.
Caution is necessary less you become addicted to pain medication. In severe cases, you may not have a choice.
Feet Hurt When I Wake Up – Other Causes
If it isn't common to wake up with your feet hurting, something you should look at is this: What happened the day before so you can ascertain if you have an injury or if it is something else.
As you have seen thus far, many things can be responsible for what you are experiencing, so read on for more information.
Here are other possible candidates.
Flat Feet
It can be painful and bothersome if you have flat feet or what we call flat arches. This condition causes less pain than the others but can be uncomfortable. The lack of an arch affects the feet tremendously, especially when walking or standing. 
Symptoms of flat feet are swelling in the heel, ankle, or arch of the foot. Other symptoms are leg cramps, toes pointing outward, muscle pain in the legs and feet.
Treatments for this condition are physical therapy, support-specific shoes, stretching, and arch supports. It is essential to note that there is no need to do anything if your flat feet condition isn't painful.
Arthritis
If you check many conditions related to foot pain and most joint pains, you will see arthritis. It comes in various forms, with each developing from the different circumstances. However, one thing is sure; it can be painful. 
Three types of arthritis could be related to the pain in your feet. These are rheumatoid, gout, and osteoarthritis. Each condition has varying reasons for causing pain.
Rheumatoid arthritis develops from an autoimmune disease where the immune system attacks healthy cells.
Gout is due to the buildup of uric acid in the body. If the acid becomes too much, it can cause pain in the joints as the acid crystallizes. Osteoarthritis forms when the cartilage and tendons connecting the joints become worn out.
This condition can cause the joints to rub and be painful.
The best treatment for these conditions is anti-inflammatory medicine and foods. Some situations require surgery, but some have no cure and offer medication to numb the pain.
Treatments may include injections and physical therapy. A possible lifestyle change may help, which requires chatting with a different type of doctor. That option is entirely up to you.
Plantar Fasciitis
This condition can also fit the bill due to the tendons that join the heel to the toes. If this tendon becomes inflamed for whatever reason, it can hurt when you get out of bed.
Less blood runs through this tendon after waking up, which helps cause the pain.
The symptoms of plantar fasciitis are pain in the bottom of your feet and a sore heel. Other symptoms are a tight Achilles heel, swelling, redness, and tenderness around the affected area.
Treatment for this condition is boots that help with walking and crutches to keep off the foot. Rolling a tennis ball under the arch of the feet is an excellent therapy method.
The use of anti-inflammatory medication is also available to help the pain, like before you have the option to decide what type of medicine suits you.
Feet hurt when I wake up? Then the options provided should help you find a solution. If you are unsure about what to do, please contact a physician who will help you.
The best advice you can get will always help you do what is right for you.