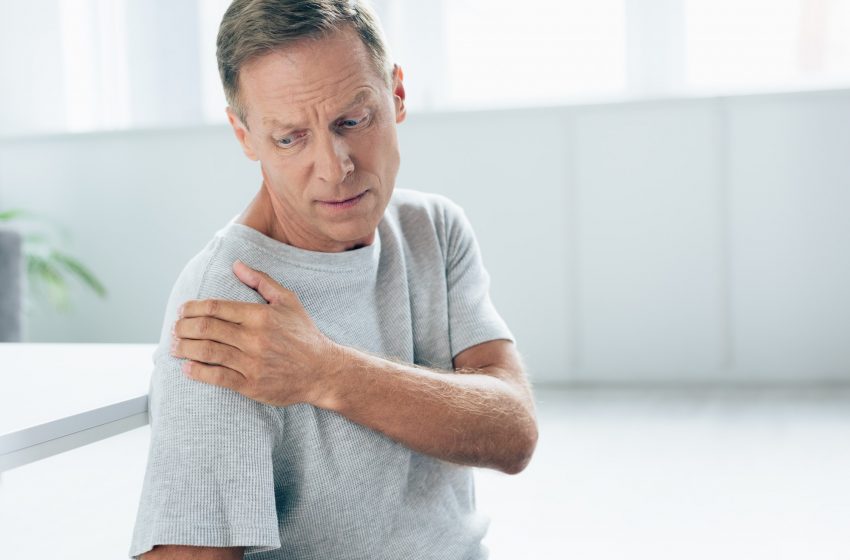 Shoulder Hurts When I Breathe | 6 Possible Causes & The Solutions
If you wonder why your shoulder hurts when I breathe, then there are a few things you should know. Your shoulder can hurt for various reasons, but it must be a more severe condition that requires attention when the problem involves breathing issues.
Your challenge with breathing indicates several medical problems that you will need to resolve. The sooner you deal with this, the better.
The best way to approach your self-evaluation is to follow some simple steps. It would help if you sought guidance by following a few principles to make it easier to know when there is a need for serious intervention.
You must first identify your problem by analyzing symptoms. Some symptoms will be similar, but the different ones help know the cause. Once you are sure of the reason, you can begin treatment or get medical assistance.
Shingles
Shingles or herpes zoster can cause pain in the shoulder when breathing. If you had chickenpox, it could lead to shingles later in life.
The varicella-zoster virus or V.Z.V is responsible for chickenpox; this virus can remain in the body and resurface many years later. If it returns, it comes as shingles instead of chickenpox. 
Symptoms of shingles are a rash on the face or body that can be very painful. Other symptoms include upset stomach, chills, headache, and fever. Shingles are your best bet if you see rash with these other symptoms.
The treatments for shingles are antiviral medicines, pain medication, and injections in extreme situations. If you prefer, you can use herbs and foods that are antiviral anti-inflammatory in nature. 
Cervical Spine Disease
Cervical spine disease is a common cause of pain shoulder when you breathe. This disease is a result of aging and injury. That is a significant factor, but not the only one. If you are elderly, it will help to have a check done.
The disks and membranes lose their strength and deteriorate. This degeneration can cause pain as the nerves are affected. Symptoms of this condition are neck pain and pain in the shoulder. There can be numbness and weakness, so be mindful.
You can treat this issue with medication that reduces pain, lots of rest, physiotherapy, and less strenuous activities. Other treatments may be medication to help muscles relax and reduce inflammation.
Shoulder Hurts When I Breathe – Other Causes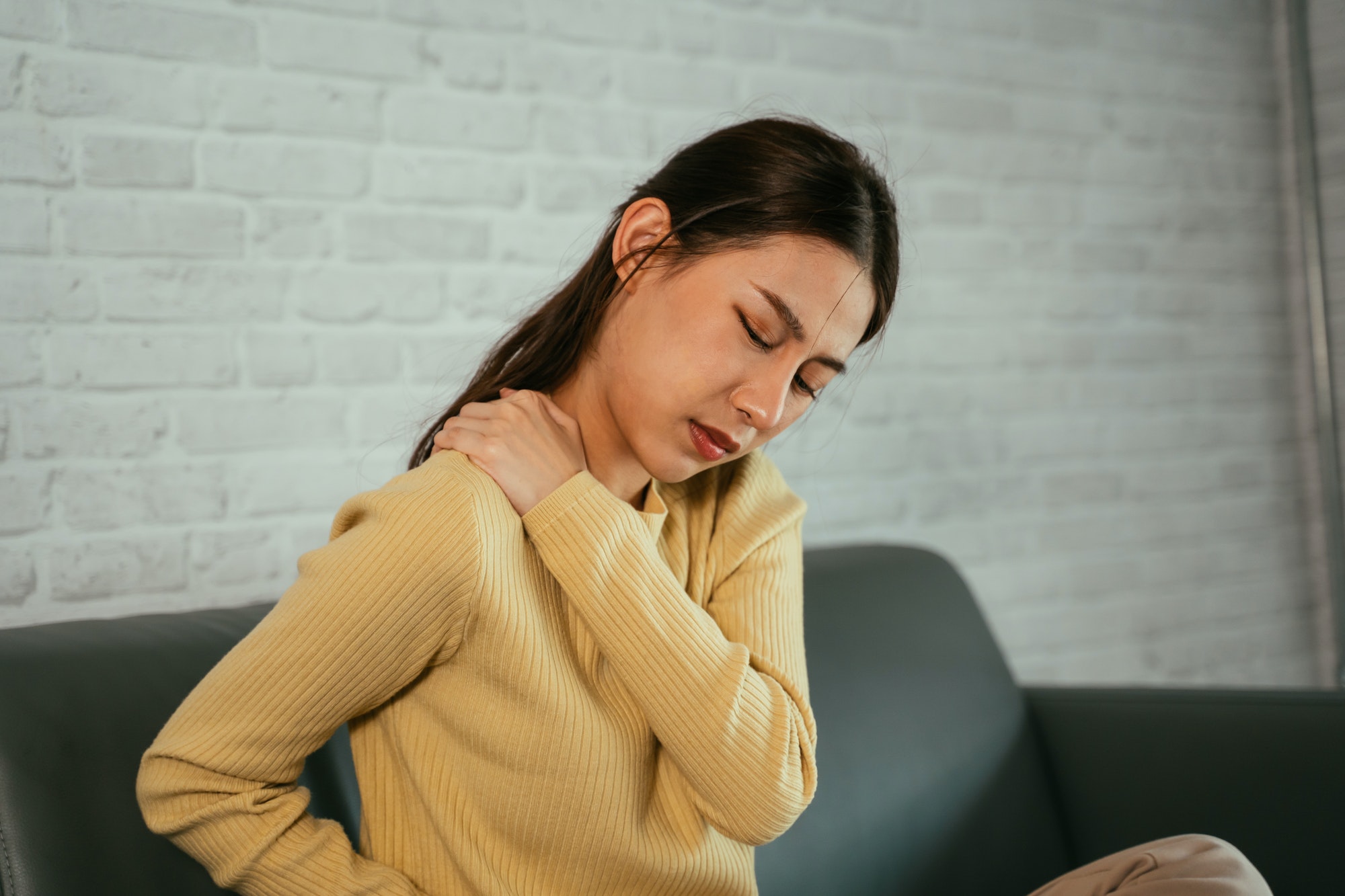 One may imagine the chest and lower back hurting if the shoulder hurts when you breathe. However, it is surprising that shoulder pain is also associated with this. This condition is mainly possible due to the nerves that connect the body. 
Nerve Compression
The body has many nerves that run throughout it. These nerves can cause pain anywhere in your body if some compression is evident. Since there are so many nerves, the symptoms will vary by area.
Inflammation and tumors are common reasons that nerves are affected. 
Symptoms include regular numbness in hands and feet and weakened muscles in the affected area. Other symptoms are numbness in the affected area, sharp pain, sticking pain, and decreasing sensation of the nerves. 
Treating this condition is complex as nerves can produce excruciating pain. Painkillers and anti-inflammatory drugs are the most commonly used methods.
Other treatments are surgery, steroid injections, oral corticosteroids, and physical therapy. You can use splints to help support the area as movement can create more pain.
Gallstones
Gallstones can cause much more than pain in the gall bladder. It can get so severe that the pain covers the back, shoulders, and chest. If you notice pain in the abdomen and it spreads upwards, it is possibly gall stones.
The symptoms of gallstones are nausea, vomiting, right shoulder pain, shoulder blades back pain, pain in the abdomen below the chest, intensifying abdomen pain. 
The best treatments are surgical removal to rid the body of the stones. Other therapies include painkillers and various liquids to try to pass it out.
Some people have relied on natural remedies that could break up the rocks, so you pass them easily, but no studies have proven this true.
Liver Disease
We all have one liver, and we must care for it the best we can. Liver disease can be severe to your health and affect many parts of the human body. It can cause pain in the stomach, chest, and back, so it is vital to know the symptoms.
The symptoms of liver disease are yellowish eyes and skin, vomiting, nausea, dark urine, skin itching, pale-looking stool, and fatigue. Symptoms can be worse if the liver is at a deadly stage.
You can experience ankles and legs swelling and stomach swelling and pain.
You can treat liver disease by changing your lifestyle. You can start by eating differently and cutting out harmful substances like alcohol. Losing weight may also be necessary and cleansing your body of free radicals and toxins.
Some people use lemon, olive oils, and cayenne as a natural remedy to clean the liver. Once you do that, a colon cleanse would be necessary. Other treatments are medications from your doctor.
Pleurisy
Pleurisy is a disease of the lungs and can cause chest and back pain and trouble with breathing. The pleura is a thin tissue that acts like a wall between the lungs and chest. When inflamed, the pleura can cause severe pain.
Symptoms of pleurisy are back and chest pains when you breathe, shortness of breath, headaches, and shoulder and joint pain. These are the most common causes of this disease, so we recommend due care. 
The most effective treatment for this condition is anti-inflammatory drugs or foods. Whichever choice you take is left in your hands.
You can purchase over-the-counter medication to help or use foods high in anti-inflammatory properties. Foods like tomatoes, almonds, olive oil, and others would fit the bill.
We always recommend seeing a doctor for shoulder hurts when I breathe and any other condition you may have. The information is beneficial but not intended to replace whatever advice your doctor may give.
It does serve as a secondary option as not everyone prefers drugs and may desire a more natural way.