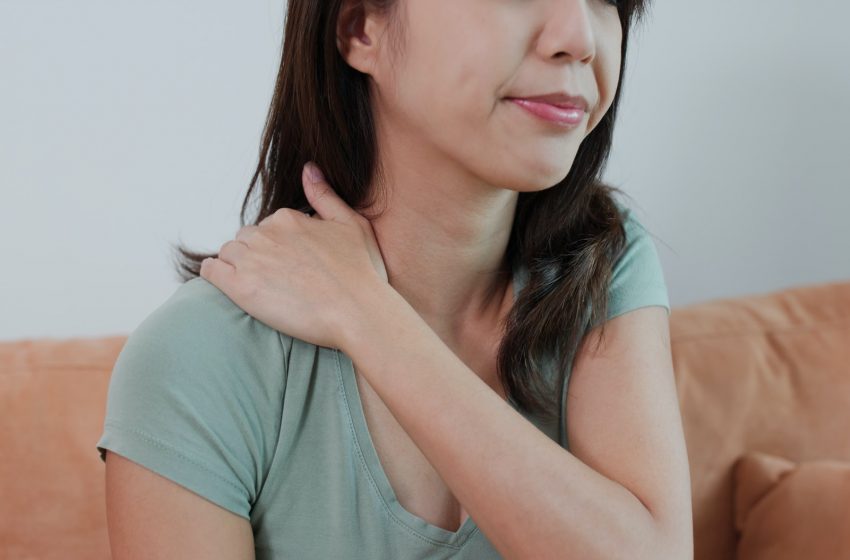 Pain Beneath Shoulder Blade | The Cause & Treatments
Have you ever experienced having pain beneath shoulder blade? Is it a sharp or burning pain or a tender or achy one? Whatever degree of pain it may be, if it is felt beneath the shoulder blade, it is something that should not be taken lightly because it can be one of many underlying conditions.
If so, is pain beneath the shoulder blade then an indication of a serious medical condition? What are the possible causes of pain beneath the shoulder blade? If I feel pain in my shoulder blade, how do I treat it? What are my remedy options?
To sufficiently answer these questions, let us first take a closer look at this bone in our body known as the shoulder blade.
The Shoulder Blades
The shoulder blade is one of the 206 bones that make up the human body. It is medically known as the scapula, a large triangular-shaped bone that lies in the upper back. We have a pair of shoulder blades in our body and collectively, we call them scapulae.
Our body's scapulae have a two-fold function. First, they provide attachment to several groups of muscles in the body. Second, they allow movement in the upper extremities (Cowan, Mudreac and Varacallo, 2021).
The strength and the location of the scapular bones make them less susceptible to fracture damage. Instead, what often gets affected are the ligaments, muscles and nerves that surround them (Ferry, 2020).
Hence, shoulder pain is most often caused by problems with the shoulder joint or with the muscles, ligaments, or tendons around the shoulder. However, sometimes the source of shoulder pain can be a condition in the heart, the belly, or some other internal organ of the body. That condition is medically called referred shoulder pain.
Causes of pain beneath shoulder blade
The Encyclopedia Britannica mentions that pain is a warning mechanism of the human body. It is primarily associated with injury or the threat of injury. One of its most important functions is to indicate potential damage to a certain part of the body (Meldrum, 2021).
Pain beneath the shoulder blades or scapulae of the body is a common experience. Its causes may range from simple like muscle strains to more serious ones like a debilitating heart condition or some forms of cancer in some organ of the body.
It is important to rightly determine the cause of pain so that proper treatment methods can be undertaken.
The most common cause of pain beneath the shoulder blades is muscle strain. It happens when the muscles in the surrounding areas of the scapular bones are overstretched.
Remember that our arms are moved by the skeletal muscles which are attached to our scapular bones. When we pull a muscle in one direction while it is contracting in the other direction, it can cause injuries that manifest through pain underneath the shoulder blades (Eldridge, 2021).
Another common cause of shoulder blade pain is bad posture. Posture is a term which refers to how we position our body when sitting, standing, or lying down. It is the result of certain habits that we have been accustomed to over the years (The Importance, 2020).
For instance, sitting with a poor posture on a chair for a very long period of time causes structural changes to the spine. This triggers pain in the shoulder blade area. Poor sitting posture includes hunching your back, tilting your head down, or sitting to one side for extended lengths of time (Cooper, 2019).
Commonly, if one suffers from pain underneath the shoulder blades, moving the shoulder may either make them feel better or feel worse. When this happens, it means that the problem is probably coming from strain on a muscle ligament or tendon surrounding the area.
If, however, moving the shoulders does not make any difference in the level of pain one felt, it means that the problem comes from elsewhere in the body and that their condition is a referred shoulder pain (Pagan, 2020).
One cause of a referred shoulder pain is heart problem. A person who suffers from a heart attack or from angina, a condition wherein the heart does not get enough oxygen, may feel pain underneath the shoulder blades.
Another is lung problem. Pneumonia, lung cancer and pulmonary embolism or blood clot in the lungs are medically identified to manifest pain beneath the shoulder blades as a symptom (Pagan, 2020).
Treatment for pain beneath the shoulder blades
Treatment for pain beneath the shoulder blades depends on what causes it. For pain that comes from strain in the muscles, ligaments or tendons surrounding the scapular bones, home remedies are effective. These home remedies include restoring good posture, balancing one's exercise routine and heat therapy (Scapular, n.d.).
If after home treatments the symptoms still persist, the problem may be coming from other organs in the body. In this case, a trip to the doctor for checkup is necessary. The doctor will conduct tests by visual observation and by imaging study such as a CT scan to decide the best treatment option.
He will also gather the patient's health history, including any current medical condition. He may also order other tests to rule out other possibilities (Pagan, 2020).
An important reminder
Any pain is something that should not be ignored. Like an alarm system, pain warns us that something is wrong with our body. If you have had pain beneath your shoulder blades for more than a couple of days without an obvious reason, then you should call your doctor.
That is especially important if you are in a lot of pain or if you have other symptoms.
References:
Barrington Orthopedic Specialists. (June 9, 2020). The importance of posture. Accessed 23 January 2022. https://www.barringtonortho.com/blog/the-importance-of-posture
Cooper, G. (2019). 7 possible causes of pain under your shoulder blade. (Updated 2019 June 11). https://www.spine-health.com/blog/7-possible-causes-pain-under-your-shoulder-blade
Cowan PT, Mudreac A, Varacallo M. (2021). Anatomy, back, scapula. (Updated 2021 Aug 11). In: StatPearls [Internet]. Treasure Island (FL): StatPearls Publishing; 2022 Jan-. Available from: https://www.ncbi.nlm.nih.gov/books/NBK531475/
Eldridge, L. (2021). An overview of shoulder blade pain: Causes and diagnosis of scapular pain. (Updated 6 December 2021). https://www.verywellhealth.com/shoulder-blade-pain-possible-causes-and-diagnosis-2248942
Ferry, B. (2020). The anatomy of the scapula: The scapula stabilizes the arm and neck. (Updated 2020 January 3). https://www.verywellhealth.com/scapula-anatomy-4682581
Meldrum, M. L. (2021, February 1). pain. Encyclopedia Britannica. https://www.britannica.com/science/pain
Ortho Info. (n.d.). Scapular (shoulder blade) disorders. Accessed 23 January 2022. https://orthoinfo.aaos.org/en/diseases–conditions/scapular-shoulder-blade-disorders
Pagan, C.N. (June 7, 2020). What is referred shoulder pain? WebMD. Accessed 23 January 2022. https://www.webmd.com/pain-management/pain-referred-shoulder-pain