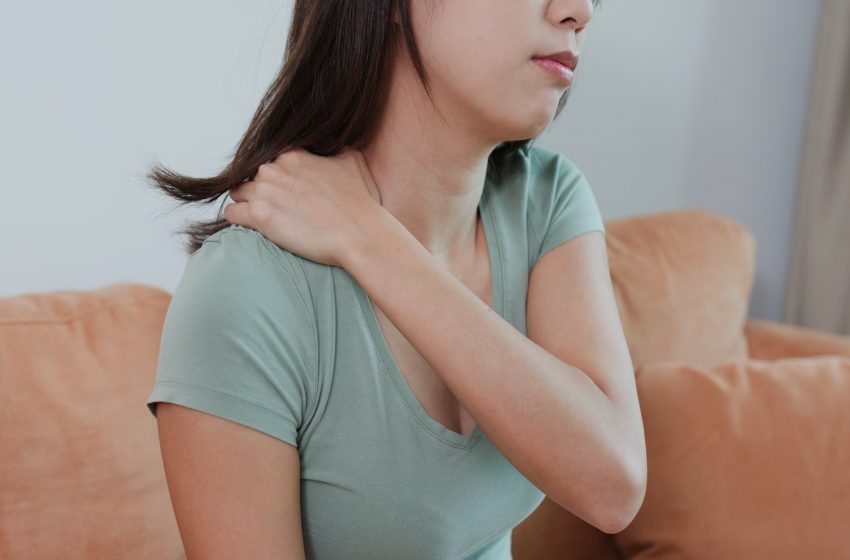 Back Pain Between Shoulder Blades – 13 Proven Methods For Relief
Do you have pain in your back between your shoulder blades? Is the pain worse when you are sitting for a long time? Have you had this problem before with no relief? You may be experiencing what is known as "intercostal neuralgia." This article will tell you how to get relief, and what to do if these symptoms persist.
Back pain between the shoulder blades can be excruciating. The intense, sharp pain can make it difficult to sleep and do your normal day-to-day activities.
There are many causes of back pain in this area – one of which is referred to as pain from an injury or illness somewhere else in the body that affects nerves coming out at the spine in that region.
What is the cause of back pain between shoulder blades?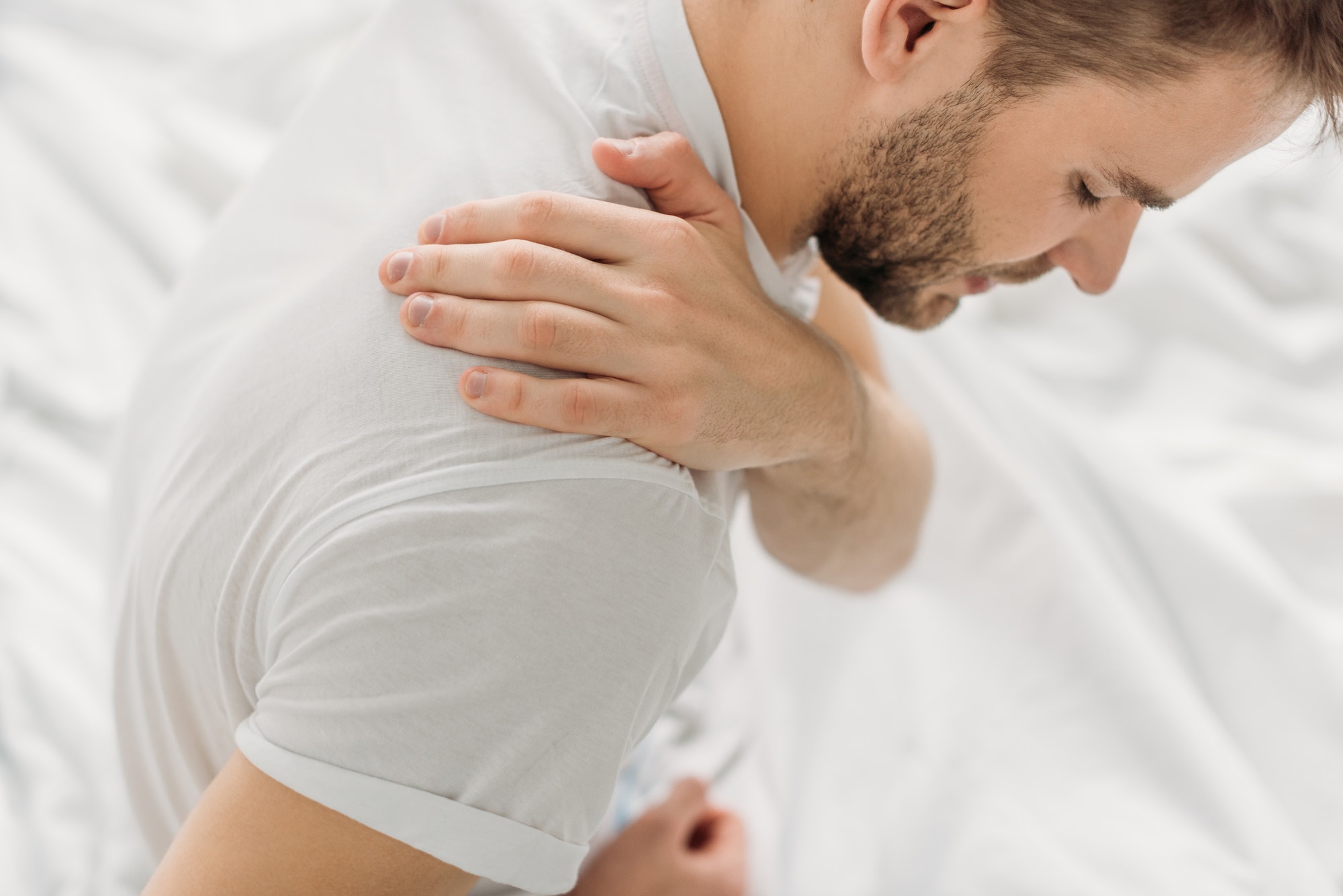 The pain between the shoulder blades is usually caused by an injury or illness elsewhere in the body. This may include nerve damage, arthritis, herniated disks in the back, and fibromyalgia.
The symptoms of pain between shoulder blades (intercostal neuralgia) can be intense and last for many days at a time.
It will usually occur on one side of the back only to begin with but over time it tends to shift sides. This pain is often made worse by being active, coughing, or sneezing.
Let's take a look at some of the ailments that can lead to pain between the shoulder blades.
Heart Attack
A heart attack can cause damage to the nerves between your ribs and spine, resulting in pain between the shoulder blades.
The actual heart attack takes a lot of the blame here- it's not so much that you have a tender or swollen heart muscle as it is that another vital organ – the lungs – fail to get blood and oxygen due to blocked arteries.
When this happens nutrients cannot reach the cells which need them for energy, thus causing severe chest pain as well as back pain between shoulders blades / intercostal neuralgia.
Arthritis
Osteoarthritis is the most common type of arthritis, and it affects your joints as well as the connective tissues surrounding them.
This inflammation can cause pain between the shoulders blades and even spread to other areas such as the neck and upper back.
Rheumatoid arthritis can also affect these areas but typically makes itself known by affecting specific joints throughout your body. Other joint problems such as gout, bursitis, and tendonitis can also lead to shoulder blade pain.
Pinched Nerve
A pinched nerve in your neck or upper back can also lead to shoulder blade pain. This happens when one of the nerves in this area becomes pressed upon by a neighboring bone or muscle.
When you have a pinched nerve you will experience pain not only between your shoulder blades but may also radiate down your arms and into other areas such as the back of the neck, upper back, lower arm, and fingers.
Sciatica
Sciatica is another possible culprit behind shoulder blade pain. This is the result of irritation to the largest nerve in your body, which runs from your lower back through your hips and down your legs.
When you have Sciatica you will often experience pain between your shoulder blades. You may also feel it in your lower back, hips, buttocks, thighs, and legs.
Conventional treatment for many varieties of sciatica involves drugs to treat the pain or surgery to release pressure on the nerve roots.
However, there are alternative treatments available that can help relieve the symptoms of sciatica without doing damage to your body with invasive procedures or relying on pharmaceuticals with harsh side effects.
They include acupuncture, deep tissue massage (trigger point therapy), Prolotherapy (injection of substances into tendons and ligaments to stimulate healing), nutritional supplements like omega-3 fatty acids, herbs like turmeric which is an anti-inflammatory agent, and natural joint support supplements like glucosamine.
Bruise or Injured Ribs
Bruised or injured ribs can result in temporary pain between the shoulders blades. Similarly, injuries such as whiplash, spinal fractures, herniated discs, and degenerative disc disease can all lead to this type of pain.
These types of injuries usually heal on their own within a few weeks or months. The pain can be excruciating initially, but it will eventually subside once the injury heals.
Enlarged Spleen
It may seem odd that an enlarged spleen can cause shoulder pain, but it can, primarily in the left shoulder. Enlarged spleens are usually the result of an infection, so proper diagnosis is important. Fortunately, this type of swelling typically resolves on its own after a regime of antibiotics.
Diabetes-Related Nerve Damage
Nerve damage caused by diabetes can lead to shoulder pain between the shoulder blades. This pain is often deep and burning in nature, rather than sharp or shooting. It may also have a tingling sensation associated with it.
The pain will subside once the nerve damage heals itself, but you should contact your doctor for treatment if you suffer from diabetes.
Pregnancy-Related Muscle Strain
During pregnancy, there is increased stress placed on your body to make room for your unborn child. As a result, many women experience muscle strain in their back region. The pain between the shoulder blades is usually the most severe at night, and it may radiate to your neck or arms.
Treatment for this type of pain typically involves anti-inflammatory medications, chiropractic treatment if necessary, and gentle stretching exercises that help you remain mobile while relieving stress on your muscles.
Spine Disorders
Spinal disorders are often characterized by sharp pains that last only a short time before disappearing completely without any residual discomfort.
If you have spine disorder, you will likely notice other problems in conjunction with the back pain including mild paralysis of either one or both legs, numbness in hands or feet, strange respiratory problems, bladder dysfunction, spasming of the back muscles, or even the loss of bladder control.
If you have spinal problems, you should see your doctor immediately so they can run tests to determine exactly what is wrong with your spine and how it can be treated most effectively.
Kidney Stones
Not often talked about for shoulder pain, but kidney stones can lead to shoulder discomfort. Kidney stones occur when minerals in the urine form a solid object. These objects can range from microscopic to bigger than a grapefruit, and they may remain stuck in the kidney or move down into the bladder.
The pain associated with passing a kidney stone is usually severe enough to cause vomiting, nausea, and extreme discomfort in the back between shoulder blades.
If you have been diagnosed with kidney stones there are several at-home remedies that will help ease some of your pain. Pain medication such as ibuprofen, acetaminophen, or narcotic pain relievers can all be used depending on the intensity of pain.
If possible it's best to avoid medications because if left untreated too long they could cause an infection. It also is helpful to consume liquids that will help flush out the stones.
Herniated Disc
A herniated disc in the lower back is often mistaken as a kidney stone because of the pain felt in the same area. If you're not sure what it is and/or if your doctor can't accurately diagnose you with either herniated disc or kidney stones, we suggest that you see a specialist for further testing to determine which one it may be.
With a herniated disc you will experience pain in your legs or feet rather than pain in your back and shoulders. You might also feel tingling, numbness, dizziness, and/or even nausea.
If you are experiencing these symptoms please go to a doctor immediately because they could lead to more serious health problems if not diagnosed properly and treated accordingly.
Best Options For Pain Relief Between Shoulder Blades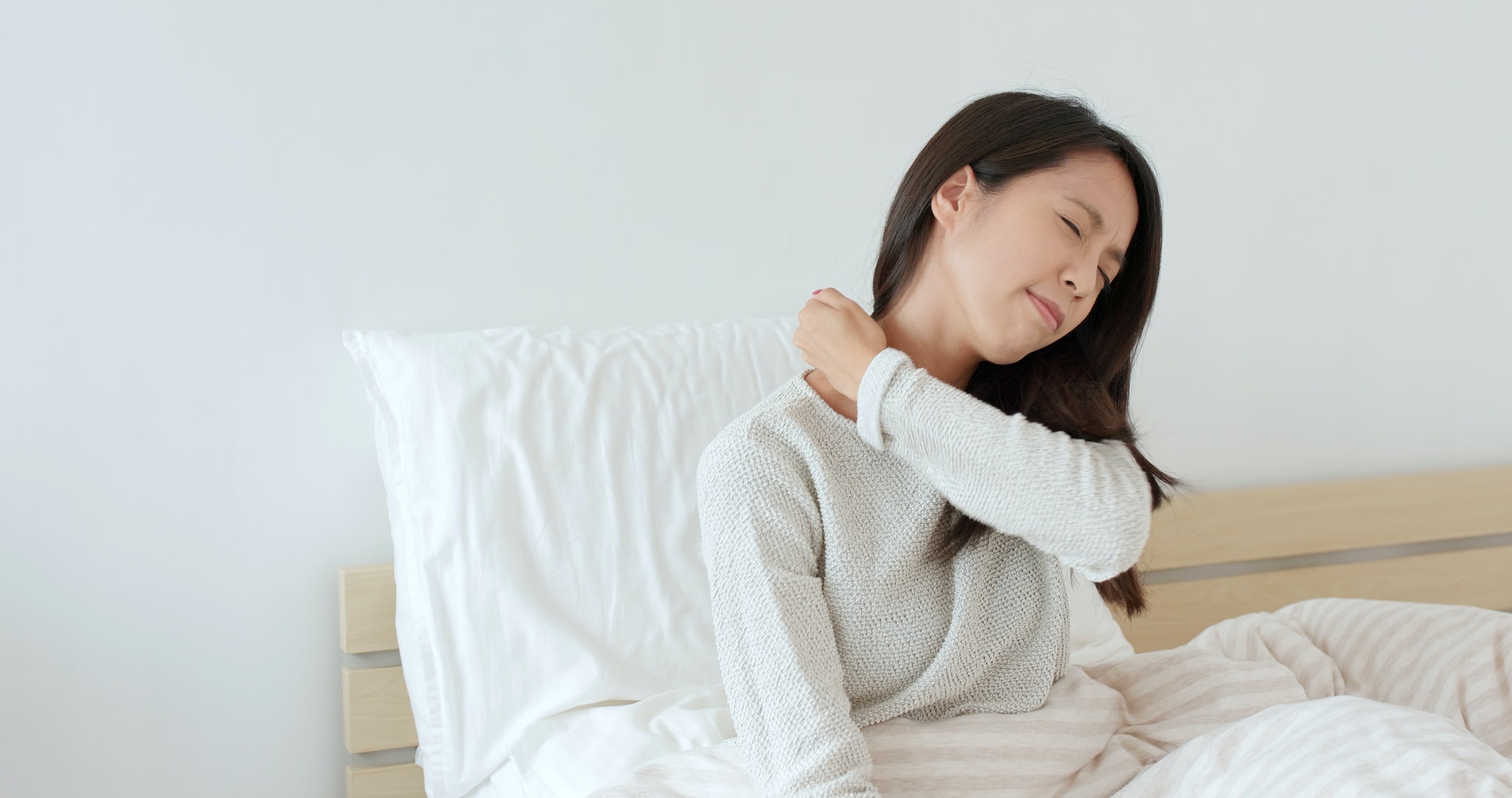 There are several options you can choose for pain relief, but please keep in mind that the wrong choice could lead to more pain and problems.
Over-The-Counter Pain Relief Medication
This is definitely one of the easiest options to go with because they are widely available at most grocery stores, convenience stores, pharmacies, etc.  They are also relatively cheap compared to other options.
Studies show that this type of medication works best when taken within the first 24 hours after initial injury/onset of symptoms.
However, some people might experience lightheadedness or stomach aches. Some pain relief medication is available over the counter but can cause dangerous side effects if not used correctly or with caution.
Physical Therapy
This option may be preferred by people who would like to try avoiding drugs and medications altogether.  Physical therapy can also help strengthen your back, which could possibly decrease the number of episodes you have in the future.
There are several options you can choose from with physical therapy: hands-on treatment, exercise (strengthening), ice/heat (application), ultrasound (ultrasound wave treatments for local pain relief), electrical stimulation (localizing current applied directly to muscles or nerves).
Physical therapists will work on your back at any given time; however, it is typically best to do this when you are not experiencing an episode.
If physical therapy is not an option or enough on its own, then a doctor may prescribe pain medications.
Each time that the injury occurs, it will be harder for your spine to recover and heal.
Once you feel a back spasm coming on, you should first try to pinpoint the spot of the problem by doing some gentle touching with your fingers around your mid-back area where it hurts.
In some cases, people have noticed their episodes being caused by sitting slouched over in front of a computer screen for long periods of time as well as sitting positions such as those found on an airplane flight.
In other instances, it has been reported that people have been affected by muscle spasms after moving heavy items from the ground that they were transporting.
Experts recommend that patients suffering from horrible shoulder pain relief exercises that they should try to do daily in order to help improve the situation. This can include simple things like taking long walks or swimming regularly or even more strenuous activities such as driving – which is an extremely good upper body exercise!
Remedies For Shoulder Pain Relief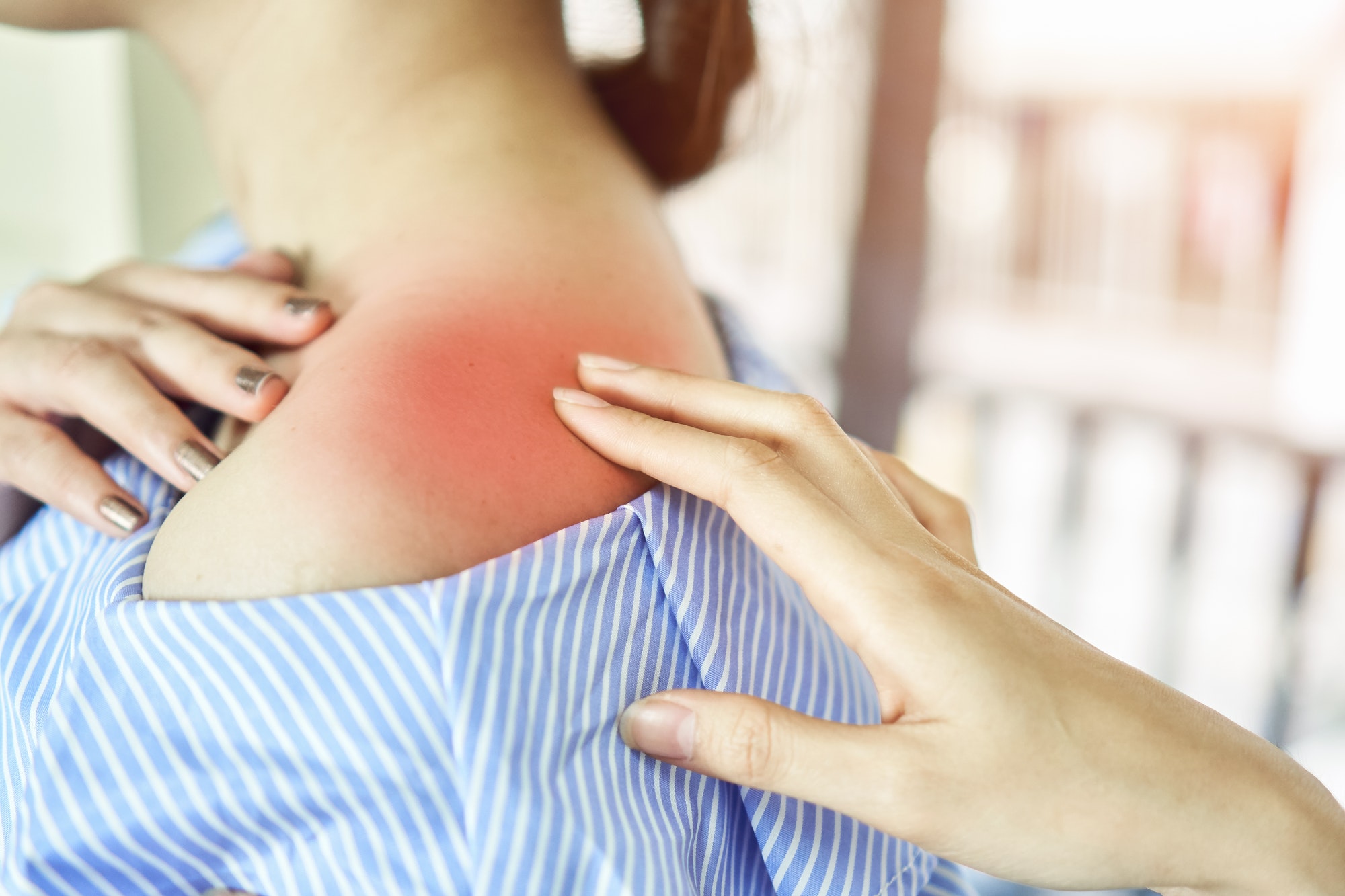 When attempting to find relief for back pain between shoulder blades, one could also consider using herbal remedies or alternative forms of medicine. For instance, many people have reported success by incorporating ginger into their diets as this has helped them manage their back spasms.
Another great natural remedy is a mixture of pineapple juice, aloe vera gel, and a little bit of linseed oil. This helps to nourish the spine and the surrounding area as it heals.
In addition to this, another great natural remedy is dry brushing. This involves using a brush from one's neck all the way down onto their back in order to improve circulation and also clear blockages within one's energy channels – which allows for better flow of energy through them so that pain isn't experienced as often or as severely.
For those who prefer a more topical solution, then consider trying out roll-on essential oils which can help tackle pains such as this at their source. A good option would be peppermint oil due to its many therapeutic properties including its analgesic properties, making it ideal for this kind of job.
Final Thoughts
You should try some of the exercises and remedies we mentioned. They are all easy to perform and will help relieve your back pain between the shoulder blades.
If you experience chronic, debilitating pain for more than a few days, it may be time to see a doctor about possible underlying causes like arthritis, muscle spasms, herniated discs, or other conditions that require medical attention.