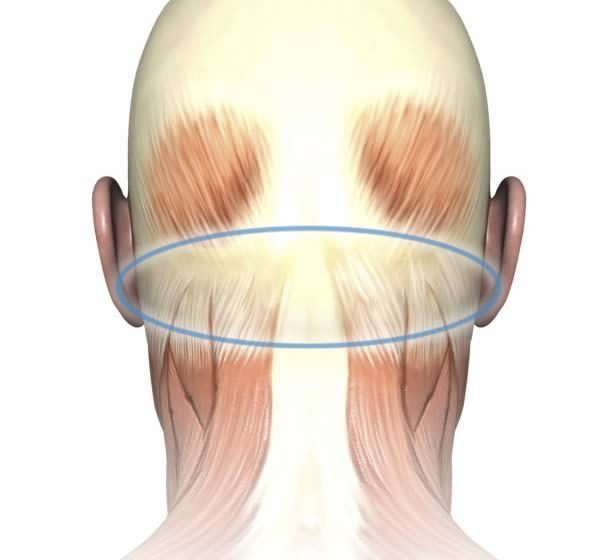 Back Of Neck Pain At The Base Of Skull | 8 Vital Points Of Note
Back of neck pain at the base of skull can lead to excruciating pain. Your neck is a very delicate and complicated structure that provides common movements that we make on a day-to-day basis.
Let's take an example such as this; when you look at an object on a high shelf you have to tilt your head back to be able to see it. This movement is all controlled by the back of the neck.
You are also able to control movements such as tilting your head forward and side to side.
3 causes of neck pain at the base of the skull
We all know that neck pain can be very difficult to deal with, particularly once it's situated at the bottom of your head. The pain and tension in this part of the neck will result in very painful issues.
Headaches, for example, can be caused by problems in this area. They can also cause joint pain in the jaw. There are three difficulties that local physical therapists typically find when clients have discomfort near the base of their skull:
Muscle tension: There are four suboccipital muscles that travel between the cervical vertebrae at the top of your neck to the base of your skull, thus creating tension. It is the tension in these muscles that can lead to poor posture, primarily when working on a computer.Long periods of looking at a smartphone or tablet can also cause tension. These muscles can become stiff when strained, and they can also produce tension headaches.
Osteoarthritis: The facet joints between the top two cervical vertebrae might develop this disease. Natural wear and tear can cause facet joint osteoarthritis. An injury to the neck might also cause it.Whiplash, for example, might raise your risk of neck osteoarthritis if left untreated.
Herniated disc: A disc is a cushion-like structure that sits between two vertebrae. The outside layer of discs is tough, whereas the interior layer is gel-like.The inner layer might pop out or herniate if the outer layer is torn or injured. This herniated debris might irritate nerves in your neck at the base of your skull. As a result of the inflammation, discomfort in this region may develop.
Most common symptoms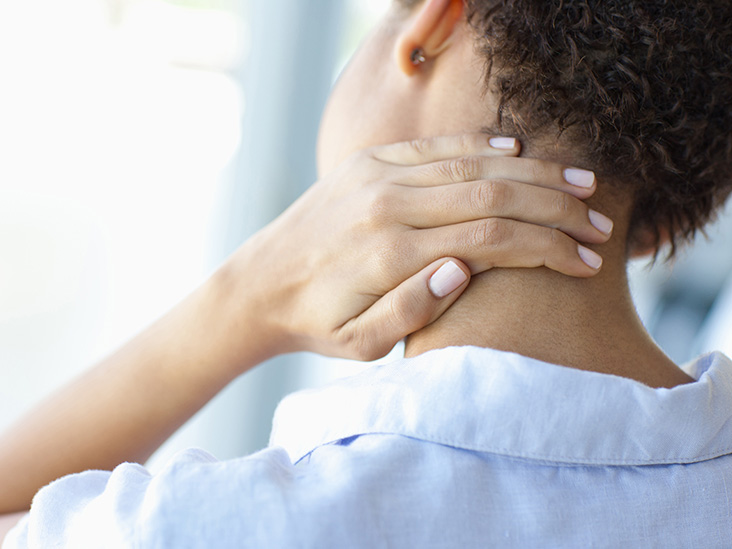 The following are the most prevalent signs and symptoms:
Stiffness and pain
Pain in the middle or on both sides of the neck is common, but it can also radiate to the shoulder and upper chest.
It's possible that you'll have arm pain or weakness.
Tension headaches are common, and the pain might radiate to the back of the head, the ear, or behind the eye.
If you've been sitting or sleeping in one posture for a long period, moving your neck may be unpleasant, and your muscles may feel stiff.
When you try to glance over your shoulder while backing up in the vehicle, your neck may not rotate as much as it typically does.
It might be an indication of polymyalgia rheumatica if you experience neck pain and stiffness that comes on suddenly, possibly overnight, and you have trouble lifting both arms over your head (PMR).This is a muscular inflammatory disorder. People over the age of 65 are the most likely to develop it. You should consult a doctor as soon as possible if you suspect you have this problem.
Tingling or numbness
When the muscles, bones, or tissues around a nerve apply too much pressure on it, it can get pinched. As a result, you may have numbness, pins, and needles, or a tingling feeling in your arm, which can occasionally extend all the way to your fingers.
When the issue is fixed, the numbness and tingling fade away. If your symptoms are severe, go to your doctor; he or she may be able to prescribe medicines like gabapentin or pregabalin that target the pinched nerve.
Noises of clicking and grating
It's conceivable that when you move your head, you'll hear or feel a clicking or popping sound. This is known as crackling, and it might be produced by air bubbles bursting or the tissues and bones of the joint moving against one other.
Other joints perform the same thing, but because the sounds in the neck are closer to the ears, they seem louder. They may also be more visible at night.
This is a frequent symptom that may appear scary, but it is not dangerous.
Dizziness and blackouts
Dizziness that happens when you look up or turn your head might be caused by a pinching of the vertebral arteries, which run down the spine. This might happen as a result of alterations in the vertebrae.
Because blood flow is briefly restricted when these vertebral arteries are pinched, fainting might occur. Fainting, on the other hand, might have a variety of causes, so it's crucial to contact your doctor if this happens to you.
Spasms of the muscles
Muscle spasms occur when a muscle or group of muscles in the body suddenly stiffens. There is frequently no recognized reason, and they can be quite uncomfortable. When it happens in the neck, it generally produces discomfort and stiffness on one side, making turning the head difficult.
It normally only lasts a few hours or days, although it might last for several weeks in rare circumstances. At home, use mild stretching, over-the-counter pain medications, and heat or cold packs to ease the pain. People who suffer from muscular spasms say that applying heat helps them relax.
How can physical therapists treat the neck pain at the base of your skull?
Physical therapists are well-suited to the treatment of upper neck discomfort. The fact that these doctors are educated to treat musculoskeletal diseases of the neck is one of the reasons.
Another factor is that they have a wide range of therapy options. Your therapist may use the following approaches to manage your pain:
Manipulation of the spine
Techniques of Active Release
Therapeutic exercises
Graston Technique
Functional rehabilitation
The Most Commonly Used Treatment
Neck discomfort is frequently relieved with simple self-help therapies and a day or two of rest. A health care expert may offer different treatments and therapies if you have a more complex or recurring neck condition.
If the pain persists, your doctor may prescribe stronger pain relievers, however, they are not appropriate for everyone.